This week is a freebie week so I got the inspiration from one of the older TTT topics mentioned on The Broke and The Bookish's page. Today, I want to give my love to books that I haven't reviewed either because a) I didn't have the time b) I couldn't condense my thoughts into a review or c) (the most likely) I was too lazy. I'm going to be mentioning only books I've read since 2015 because that's when I started reviewing books. After scouring through my Goodreads, here are ten books I loved but didn't review!
1. Tiny Pretty Things by Sona Charaipotra and Dhonielle Clayton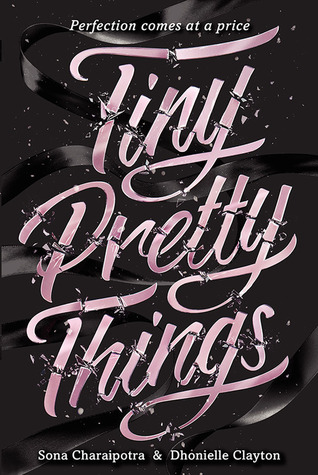 This book is so good! It's about a ballet school in New York and follows the lives of some of the students as they go through emotions of jealousy and do bad things out of stress. It truly highlights how cutthroat competition can be and how it can get to even the most resilient of people. Some students suffer from anorexia and get really depressed. This reads like a TV show and it's so easy to picture everything. The cast is very diverse and it also hints mildly at racism. A fantastic book and the sequel is also incredible! ❤
2. The Deal by Elle Kennedy / The entire Off Campus series
This was one of my favourite reads of last year cos it was so damn adorable! It's definitely one of the best New Adult books I have ever read because it manages to have an original story and isn't an absolute copout like most others. These books are so easy to dive into and really enjoyable. They're lighthearted yet have some really touching moments and are overall great books for reading slumps. 😀
3. Lady Midnight by Cassandra Clare
Cassandra Clare's books are all fantastic but this one BLEW ME AWAY. The characters are so complex and the story is so interesting. I love how this book weaved in characters from her other books in the Shadowhunter Chronicles. SO MUCH HAPPENED! I had so much to say that I couldn't write a coherent review so I did not BUT IT'S AMAZING.
4. Popular: Vintage Wisdom for a Modern Geek by Maya Van Wagenen
I picked it up because I loved the concept of the book. A middle schooler who tries all these tips in a book from the 50s about how to be popular. I was so impressed by the maturity of the author, Maya and her wonderful style of writing. It's a really sweet book and I just flew by it. I'm sure everyone will enjoy this and I recommend this to everyone!
5. Thirteen Reasons Why by Jay Asher
This is a book which really moved me. I drafted up a review for this multiple times but I didn't end up publishing it because I wasn't able to eloquently express how much this story means to me. It's slightly morbid, even more so because I heard an audiobook version of it. I really, really hated Hanna Baker but I love how the author wrote her – he made her this imperfect character with so many flaws and in contrast to that, there's Clay who's absolutely wonderful. I think I may just write a whole post discussing this book in the future because there are definitely enough and more things to talk about.
6. Ruby Red by Kerstin Gier
I loved this story! The concept of the story is so freaking cool and I enjoyed it. Gwen is such a fun character and I loved reading from her point of view and all the craziness that unexpectedly happened to her. It's really interesting how the story flits from past and present when they time travel and I liked how they showed the difference between times. This series is so much fun and I really want to reread this soon!
7. Sisters Red by Jackson Pearce
In 2015 I tried to do the fairytale retelling reading challenge. I failed horribly xD But this one of the books I read in contribution to that. It's a retelling of Little Red Riding Hood but so much better. There is blood and gore and superawesomeness. This is fantastic. It starts a bit slow but it quickly picks up pace. I hope to complete this series someday.
8. The DUFF by Kody Keplinger
This is a book I reread so many times in 2015 because I really love the story. Bianca is a really fun character to read and she does so much crazy shit. I love the relationship she forms with Wesley through the course of the book. The story has low and high moments too, and is much deeper than the movie is. I really like the way they show Bianca's relationships with her parents and her friends. Look forward to reading the sequel soon!
9. Beauty Queens by Libba Bray
I LOVE THIS BOOK SO MUCH. The humor, the satire, the writing, the characters – it is all PERFECTION. This is such a unique story because the concept is so random! It's about a plane with a beauty pageant's contestants crashing into an island but there's so much more to the story. It's so sarcastic and I LOVE IT OHMYGOD. This would make such a hilarious movie and I hope that it happens some day!
10. The Lying Game by Sara Shepard
I'm a huge fan of Pretty Little Liars so I was looking forward to reading this. I binge read this series of six books. Six. Freaking. Books. The story is by no means spectacular and the characters are so freaking annoying but there's something so creepy and mysterious about Sara's writing that just kept me hooked. I loved the writing of the story and I loved how the story is paced and how it unfolds as the books continue. I really, really liked this. I had so many theories about this and none of them came true, but I loved theorising anyway!
---
Have you read any of these books? What are some books you loved but neglected by not reviewing them?