Yesterday, I finally saw the Before I Fall movie! I was quite excited for it seeing as the book was one of my favourite reads of last year (review here). The movie came out sometime in March but I only got around to watching it now.
-mild spoilers for both the book and the movie-
I thought Zoey Deutch's acting was great – she managed to portray Sam's entire change in thought process very well. She didn't look like what I pictured Samantha to look like but I think she did a great job. I loved the casting of the main four mean girls – Sam, Ally, Elody and Lindsey. They all looked like teenagers, which is sadly quite rare for teen movies, and acted and felt like best friends. Kian Lawley the youtuber played Robb. Didn't expect to see him in the movie and I did not know he acted but he was pretty good too!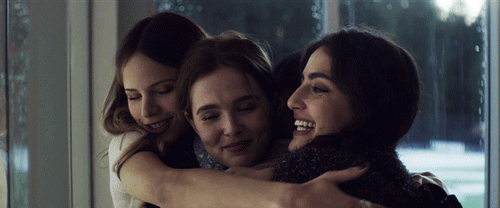 It was a good movie and I did enjoy watching it. It stayed mostly true to the book – the number of times she repeated the day was reduced because of the time constraints but the overall message of the story remained the same. However, I must say that the movie did not leave as much of an impact on me as the book did. But the scene where everyone ganged up on Juliet at the party was so much more horrifying to watch than to read.
One of the best parts of the story for me was Sam's transformation through the days and I was a bit disappointed that we didn't get to see as many faces of her in the movie. They skipped over the day when she went totally crazy, which was a pity because it was one of the things I was looking forward to most! Another thing that got brushed over in the movie was the backstory to Juliet and Lindsey. It was mentioned in the movie, but very briefly. I also remember Lindsey opening up more in the book about a lot of different things. I also wish we got a little bit more time with Kent because he was such a sweetheart, both in the book and the movie.
Overall, it was a good movie and a faithful adaptation but, as with most adaptations, I prefer the book. But whether you consume it in words or in video, it is a fantastic story with an important message.